Meet the Executive Director
Alex Herrgott was appointed by the President as the Executive Director of the Federal Permitting Improvement Steering Council (FPISC or the Permitting Council) on September 21, 2018. Mr.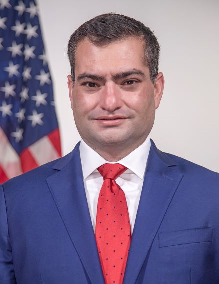 Herrgott had been serving previously as the Associate Director for Infrastructure for the Council on Environmental Quality (CEQ) at the White House. Prior to his service with CEQ, Mr. Herrgott worked for Senator James Inhofe of Oklahoma as Senior Staff from 2004-2011 at the Environment and Public Works (EPW) Committee. In this role he served as primary staff for transportation and water issues and helped to pass the 2005 and 2012 Surface Transportation Authorizations (SAFETEA-LU and MAP-21) and the Water Resource Development Act of 2007. Mr. Herrgott worked in the private sector as the Director of Transportation and Infrastructure for Congressional and Public Affairs at the U.S. Chamber of Commerce from 2011-2013. After this period of time in the private sector, Mr. Herrgott returned to Senator Inhofe's personal office as Legislative Director from 2013-2014 and then served as Deputy Staff Director for the Senate EPW Committee from 2015-2016 where he was the Committee's lead author and negotiator for the Fixing America's Surface Transportation (FAST) Act (P.L. 114-94) and the Water Infrastructure Improvements for the Nation (WIIN) Act of 2016 (P.L. 114-322). Mr. Herrgott received a Bachelor of Business Administration in Finance degree from George Washington University.
Download Office of Executive Director Staff List
Last updated: Friday, August 21, 2020